The ASSIST Blackbody comes with a high precision temperature controller allowing to regulate the temperature of two independent channels (blackbodies) simultaneously.
Each channels, measure three independent high precision thermistors, allowing a better characterization of the blackbody cavity. Each thermistors is calibrated independently based on its respective location on the cavity. The temperature regulation is determined through the average value of the three thermistors.
The controller can be connect to an external PC using its built-in USB interface. The software runs under Linux or Windows environment and allows to:
Change PID settings (gains, saturation and dead zone).
Change set points.
Get temperature read by each probe and outputs' status.
Calibrate the controller.
Change the look up table of any temperature probe.
Change controller's software.
Read data stored by the controller's logger.
In order to offer a better reading accuracy, each channel has its own reference resistors allowing the calibration of the entire electronic chain. This allows an accuracy of 0,0298ppm Full scale for a 24 bits ADC. The high precision resistors used to validate/calibrate the electronics ensure an accuracy of 0,3ppm/C over the full operating range.
Beside the software offered with the controller, a built-in logger can be set to punctually store the values of each thermistors. The data is then stored and can be exported as CSV file.
Spectral emissivity curve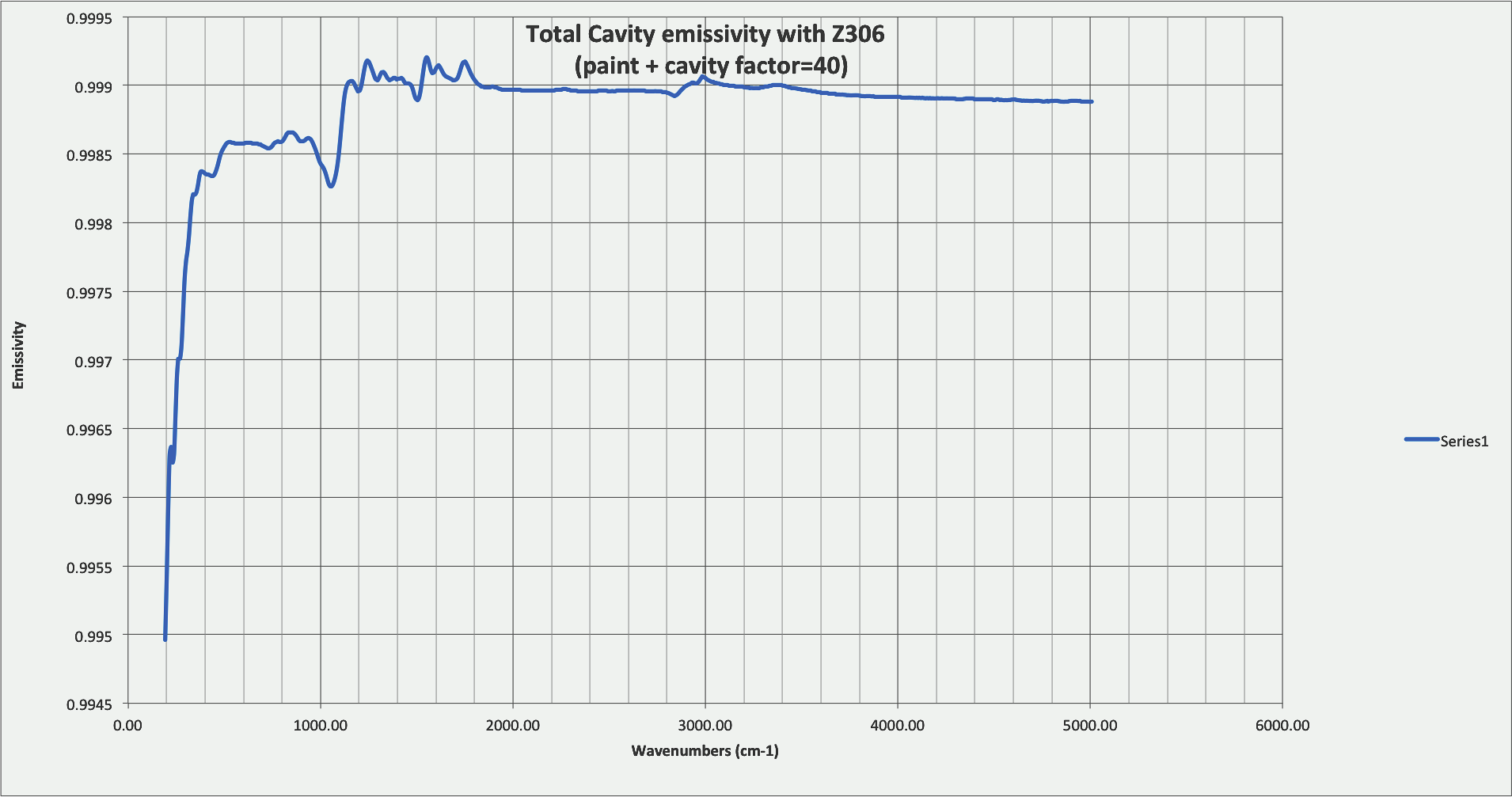 Thermistor accuracy after calibration
| | |
| --- | --- |
| Spectral Range | 500 to 5000 cm-1 |
| Effective Emissivity | >0.998 |
| Temperature Range | ambient to +65°C |
| Absolute Accuracy | Better than 1% of ambient radiance |
| Rerpoducibility | Better than 0.2% of ambient radiance |
| Radiance uncertainty | <±0.010 K |
| Temperature Display Resolution | ±0.001°C (as per controller BC-232) |
| Temperature Setting Resolution | 0.001C° |
| Temperature Stability | 0.03C° over 120 sec. |
| Temperature Gradient | <0.35C (across the cavity) |
| Temperature knowledge (thermistors) | ± 0.003℃ Absolute (range from 0℃ to 50℃) |
| Aperture diameter | 2,75 inch |
| Voltage | 110/230Vac, 50 or 60 Hz |
| Power consumption (1 source) | 30W |
Controller specifications
Main power
Nominal voltage: 12Vdc
Nominal current: 300mA
Connector: 2.1mm, negative center
Channels' power input
Type: Unipolar
Minimum voltage: 12Vdc
Maximum voltage: 30Vdc
Fuse protection: 3A/Bussmann AGC-3
*  Voltage supplied must exceed the maximum desired output voltage of the corresponding channel by at least 6V.
 
Power outputs
Minimum voltage: 0.2Vdc maximum
Maximum voltage: 24Vdc
Maximum current: 3A
Short-circuit protection: Electronic
Date and time retention
Duration: One month if powered at least 30 min
Temperature probe inputs
Probe type: NTC thermistor / 10kOhms at 25°C
Maximum impedance of any probe: 50kOhms
Maximum total impedance: 125kOhms
Calibration: Automatic
Range of measure: -65°C°C to 65°C
Resolution of measure: 0.001°C
Regulation
Setpoint: 15°C to 60°C
Resolution of setpoint: 0.001°C
Maximum stability at setpoint: ±0.005°C
*Absolute precision of measure: better than 0.005°C (controller)
* Absolute precision of measure excludes intrinsic error of the probe, but includes a maximum ambient temperature variation of ±20°C.